Alternative Deployments in a Mesh Network
Sep 6, 2023 · 3 minutes to read
Introduction
There are two alternative network deployments that solve common issues when working with large data in a mesh network.
There are ways to circumvent some of the mesh network's features that in specific cases can stand against the optimal usage of the Treon products.
Nodes in Non-Routing Mode Deployment
It is possible to set all nodes in the network as non-routing. This means that they no longer can forward the sensor data from other nodes. The nodes no longer self-arrange themselves in a mesh formation, but instead are connected directly to the Treon Gateway.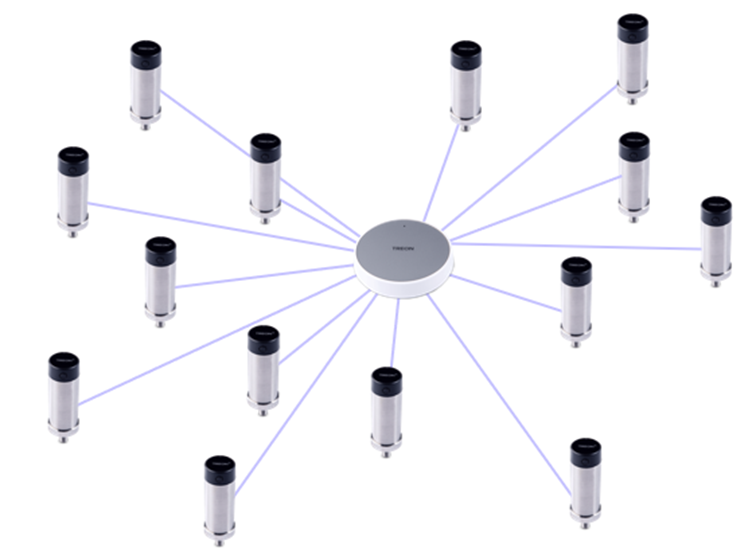 Use Case
This deployment can solve problems with data congestion and excessive battery consumptions. When individual nodes are transmitting data from other sensor nodes, their buffer can be exceeded specifically when raw data is utilized. As a consequence, sensor data might arrive late or be lost, and the batteries of routing nodes will be drained faster.
Requirements
All nodes need to be in a distance to the Treon Gateway to be able to connect directly. This means that all nodes need to be in the gateway's direct radio range. Ideally would be a clear line of sight between the nodes and the gateway. Structural obstructions such as walls and large metallic objects will decrease the possible distance between node and gateway drastically.
One Treon Gateway can connect up to 14 nodes directly at the same time. If you have 15 or more nodes, you need more than one Treon Gateway, so all sensor nodes have a gateway to connect to.
For configuring the Treon Industrial Nodes as non-routing, please contact Treon Support.
Multiple Network Deployment
It is possible to separate the network into multiple networks, each with their own network id. The nodes and gateways from one network will not be able to communicate with the devices of another network.
Use Case
In some deployments it can be important to be sure that specific nodes only connect to a specific Treon Gateway. This can for example be the case when the layout the Wirepas mesh arranges itself into automatically is causing problems, or when it is crucial to address to certain nodes via a specific gateway. Most of these cases occur when raw data is transferred through the mesh network, and the automatic mesh arrangement is suboptimal.
Requirements
Configure one or several Treon Gateways and nodes to their own unique network.  
All nodes within a separated network need to be able to form a mesh network on their own, and all data from the sensor nodes must be able to reach the gateway.
For configuring the Treon Gateways and Treon Industrial Nodes, please read the article on Changing the Wirepas Parameters or contact Treon Support.

In case you need assistance with planning the mesh network deployment, Treon experts can help you all the steps of the way. Contact our Sales team to discuss your needs!
Treon also offers trainings specifically on mesh network design. Please contact Treon Support to arrange a training.
Treon Support
You still have questions? Our dedicated team of experts is happy to help you! Please contact Treon Support directly by e-mail.
Did you know? Treon offers Premium Support and Maintenance Packages for our customers. Get even more out of Treon and boost your sales - inquire now about features and prices!