Treon Gateway - Unpacking & Installation
Sep 6, 2023 · 2 minutes to read
What's in the box
The sales box of the Treon Gateway and the Treon Gateway 2 contains the following:
Treon Gateway
AC power adapter
Documentation
Here is a short video showing the unboxing of the Treon Condition Monitoring Starter Kit with a Treon Gateway in Protective Enclosure and Treon Industrial Nodes 6:
Keys and parts
A. Status light
B. USB A host port
C. Power cable connector
D. Ethernet cable connector
E. Micro SIM card slot
F. Configuration button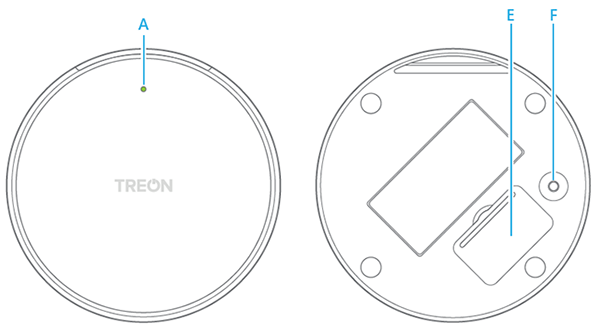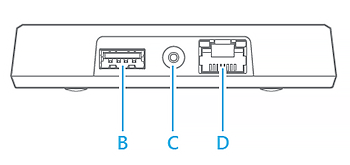 Important note: Pressing the Configuration button on the bottom of the Treon Gateway longer will lead to a 'factory reset'. This will not reset the gateway to the original configuration you received it in, but it will delete all of the user-specific data. The factory reset is intended to delete all data at the gateway's end-of-life so it can be disposed of securely. Read more here.
Power up the Treon Gateway
Attach the power cable to the Treon Gateway (C) and plug it in a wall outlet. The gateway switches on automatically. Use only the power supply unit provided together with the product.
The status light (A) can show different colours:
Green light The gateway is connected to the internet
Blue light The gateway is trying to establish a connection to the internet.
Blinking blue The gateway is in configuration mode
Red light There's an error with the gateway or it has no internet connection. Open the configuration mode to see what's wrong.
Treon Support
You still have questions? Our dedicated team of experts is happy to help you! Please contact Treon Support directly by e-mail.
Did you know? Treon offers Premium Support and Maintenance Packages for our customers. Get even more out of Treon and boost your sales - inquire now about features and prices!