Treon Gateway SIM Connection
Jan 31, 2023 · 3 minutes to read
This article describes how to use a sim card network connection on the Treon Gateway.
Treon Gateway can establish a mobile network connection using a SIM card or an external USB SIM card modem.
Specifically for deployment in areas where an ethernet or wi-fi connection is not available, connecting the gateway via a mobile network is the best choice.
SIM Card Requirements
When using a sim card, it needs to fulfill the necessary requirements, or it will not work with the Treon Gateway. Choose the mobile network provider and the type of SIM card carefully, so it will work with the gateway.
The Treon Gateway is compatible with 2G, LTE M1 and NB-IoT (Narrowband IoT). We do not recommend using NB-IoT due to the low bandwith that is provided. The Treon Gateway is not compatible with 4G and 5G SIM cards.
The sim format used for the Treon Gateway is Micro-SIM.
Always make sure that the chosen sim card provider has sufficient network coverage in the area of deployment. Specifically large data amounts (e.g. when using raw data) can be problematic if the mobile network signal strength is poor.
SIM Card Installation
Unplug the gateway's power cable from the wall outlet.

Put your fingernail in the seam between the lid of the SIM card slot (E) and the back cover and remove the lid.

Slide the SIM card holder to the right until it unlocks, and lift the holder up.

Place the micro SIM card in the holder with the contact area face down, and close the holder.

Slide the holder to the left until it locks into place, and put back the lid.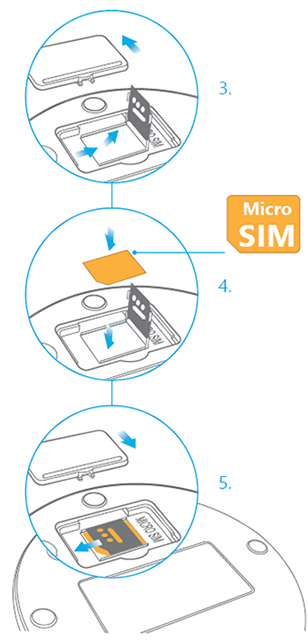 Please note: Always unplug the power from your Treon Gateway before inserting or removing a SIM card!
External USB Modem
The Treon Gateway has a USB connection that can be equipped with an external USB SIM modem.
A prerequisite is that the Treon Gateway has the correct driver for the specific SIM modem model. The gateway has the drivers for many popular models included, but check with Treon Support if you would like to use a model not included in a list.
When using an USB modem with the Treon Gateway, it first needs to be configured on a computer before it can be used with on the gateway. It is not possible to configure the SIM modem directly via the gateway.
USB modems we have made good experience with include:
Huawei E3372
ZTE MF833
Huawei E3372h-320 LTE
Alcatel Link Key 4G IK40V
Treon Customer Support
If you have further questions on TOPIC, please contact Treon Customer Support.