Installation with Magnetic Epoxy Mount Adapter
Dec 1, 2022 · 3 minutes to read
This article describes how to install a Treon Industrial Node or Industrial Node 6 with the help of the Treon Magnetic Epoxy Mount Adapter.
Using the Magnetic Epoxy Mount Adapter enables attaching Industrial Node to uneven surfaces and without any opening for a bolt. The Industrial Node will be pre-fixed by a magnet and the final​ installation must then be done with a suitable glue. It is possible to manually align the Industrial Node.
Installation with an Magnetic Epoxy Mount Adapter requires a Treon Magnetic Epoxy Mount Adapter, epoxy, and a surface of 32 mm diameter.
What you need
For this installation method you will need:
Treon Magnetic Epoxy Mount Adapter
Silicone grease
Glue (Loctite EA 3450, Loctite HY 4070 or other suitable glue)
Torque wrench
Step 1: Apply Silicon Grease
Apply and carefully spread the silicon grease to the EMagnetic Epoxy Mount Adapter's top surface. This is the surface opposite to the magnet surface.
If you are unsure which surface is the right one, test the magnetic surface of the adapter with a metal surface and then choose the opposite surface for this step.
Apply grease to clean surface

Apply around the thread hole

Spread with finger

Whole surface of adapter
should be covered
Step 2: Connect Magnetic Epoxy Mount Adapter to Industrial Node
Take the Magnetic Epoxy Mount Adapter and carefully screw it to the Industrial Node. The greased surface should point toward the Industrial Node, and the magnetic side away from the Node.
| Take the Epoxy Mount Adapter | Screw in all the way |
| --- | --- |
Step 3: Tighten
Set the torque in the torque wrench to exactly 8 Nm. The SW size is 30 mm.
Hold the Industrial Node with the SW 30 spanner or wrench and carefully tighten the Magnetic Epoxy Mount Adapter.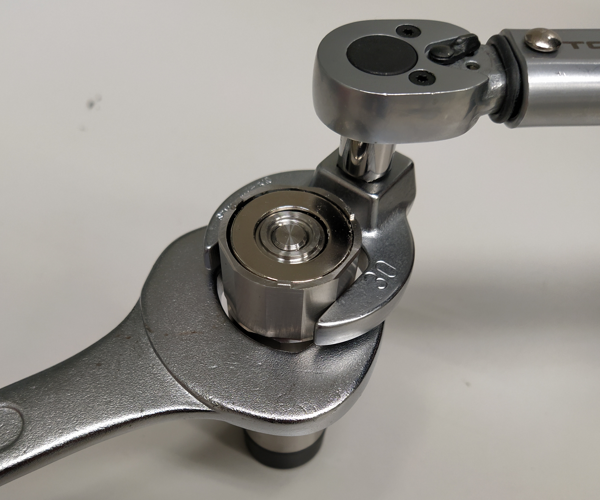 Step 4: Clean Machine Surface
Now carefully clean the surface of the machine where the Industrial Node should be attached.
Step 5: Apply the Glue
Prepare the glue and then apply it to the surface of your machine according to the instructions of the glue manufacturer.
| Take the epoxy glue | Mix on disposable surface | Mix both phases |
| --- | --- | --- |
| Ready when fully mixed | Apply glue to machine surface | Spread glue evenly |
Please note: If you use a an epoxy glue that gets mixed in the nozzle, like the Loctite HY 4070, you can apply direclty to the machine surface.
Step 6: Attach Industrial Node to Machine
Place the Industrial Node on top of the glue. Now align the Node so that its axis​ points directly toward either the drive or the non-drive end of the machine.​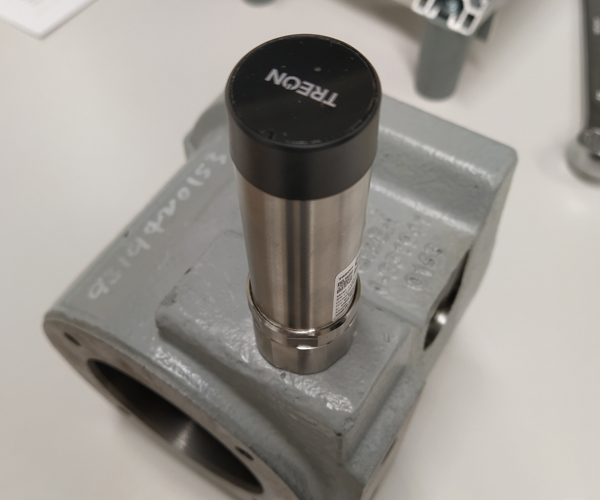 Let the glue harden fully before turning on the machine.
The Industrial Node or Industrial Node 6 is now fully installed!
If you need any additional help with the installation process or at any point are unsure how to proceed, please contact Treon Customer Support.